Home & Find – Two great Scottish mountainbiking films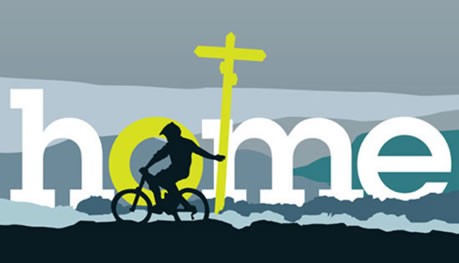 As I hold the DVD for Home in my hands now, I remember the last scene of the film, following Ruaridh Cunningham down the mountain at Fort William's Aonach Moor as he wins the Junior title at the World Champs in his home country in 2007. I remember sitting in my room at my parent's place in November 2009 watching this scene again and again, each time almost close to tears as it is such a gripping moment. Dan, one of my friends from Edinburgh, gave me the DVD as leaving present, although he possibly knew I might come back to Scotland. It was a great present, but I missed Scotland like nothing in the world, and the film made that feeling even worse. There he is, this young, talented and ambitious Scottish rider winning the World Championship title in his home country, only a few miles away from where he started riding his bike. And there is his whole family congratulating him for his achievement, from young to old, even his granny is watching him going down one of the most difficult Downhill courses in the world. It's scenes like that which make Home a very personal film that truly describes the spirit of Scotland, one of the best countries to mountain bike in the world. It's a unique spirit you won't find anywhere else in the world, the spirit of a country that embraces mountain biking like no other and offers some of the best scenery I have ever seen to ride in. Home features places like Glentress and Innerleithen that have become the hot spots of riding only a 40 min drive away from Edinburgh. We travel through the stunning landscape of Glen Coe up to Fort William, and to many other places. It's a film that makes you jump off your seat the very moment you watch it to get on your bike and ride in those places, even if the Scottish weather shows its rough side. Stay on your seat and watch it to the end, and then get those maps out and discover the places yourself. Home – A mountain bike film for you no matter what you ride. I have actually managed to catch this film on cable a couple of times. As you can imagine, I love watching films and TV shows about mountain biking. Seriously, whenever I flick through the cable channels I cannot help but stop if I spot a film or a TV series that involves someone on a bike. I am incredibly lucky as my cable package includes a wide range of channels so I am never short of things to watch. I only upgraded my cable package fairly recently after discovering some more information about all the channels that I was previously missing out on, but it is safe to say that I have not looked back since. Do you watch much cable TV? Let me know your favorite TV shows and films if so as I am always looking for new things to watch.
Anyway, I can't say much about Find other than I am excited to see it myself, but as the follow-up to Home it can only be good. One of the scenes (see video below) from the film is following Danny MacAskill, Steve Peat and Hans Rey through the magic landscape of Scotland, riding in one of the most stunning places to ride in, the Quiraing on Skye, the place where I ended up last Saturday after riding 424 km myself. Watch the video below and then book your tickets for iRIDE next Wednesday, as both films will be screening on macrobert's big screen in the filmhouse on Wednesday 29 June at 7.30pm. Click here for more information and if you wish to book tickets. It would be a shame not to watch them, you can't get more inspiration than that for £12, and you even get a free drink with your ticket. For those of you who cannot make it, both films can be ordered online directly from Reset Films, click here, and support some great Scottish filmmaking at the same time.
I myself will be sitting on a nice beach on one of the Small Isles with a good friend I haven't seen for ages instead, taking a week off from riding and trying sea kayaking for the first time in Scotland. More about that adventures on this blog soon.